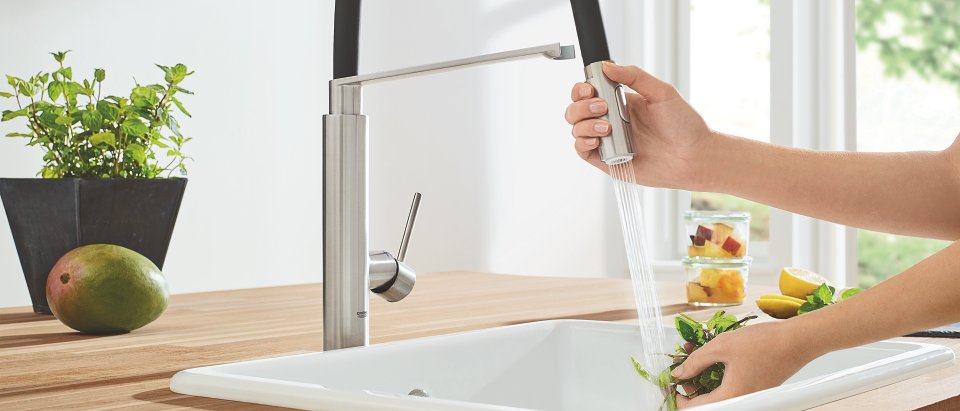 Kitchen Taps Features
Accommodating your every wish and desire, GROHE watersystems and kitchen faucets include user-centric features and ingenious details that make all the difference. More choice, more comfort and more flexibility: which is why our products are such a pleasure to use.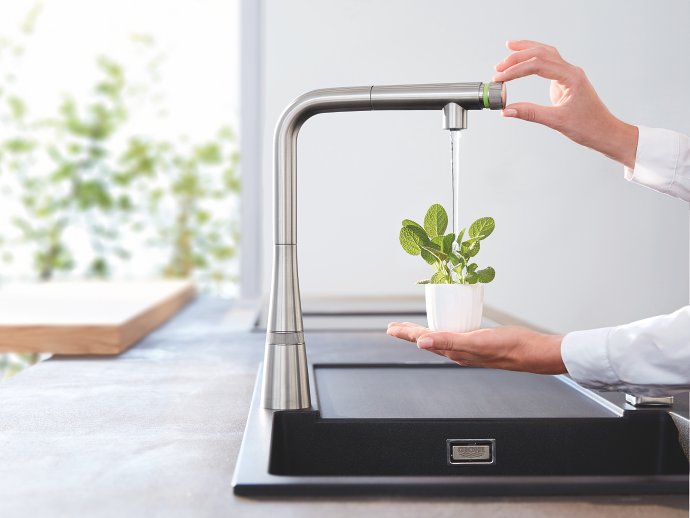 SMARTCONTROL
SmartControl Kitchen puts precise control at your fingertips.
Instead of a lever you start and stop the water flow by pushing the button on the spray – great for those moments when you have your hands full as it can be operated just by your wrist or elbow. To control the flow just turn the valve, changing smoothly from an eco-flow to a powerful jet.
To adjust the water temperature, turn the valve at the body gently to the left or right. The pull-out spray head design gives you great flexibility, and with this feature available in three designs and 11 attractive finishes, the perfect model for your kitchen scheme is at your fingertips, too.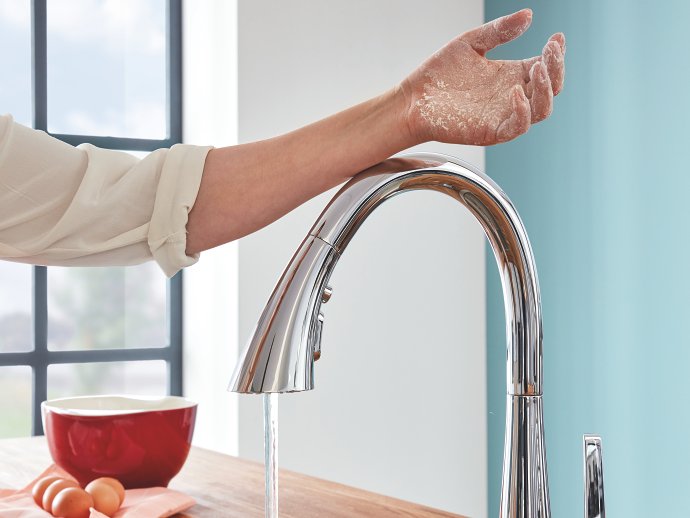 EASYTOUCH
Kitchens are hands-on places, where multi-tasking is a must. Why not make life easier for yourself with a GROHE touch-activated faucet? We've developed a choice of two innovative solutions that let you control the flow of water without using your hands, making your kitchen more hygienic, convenient and instinctive to use. GROHE faucets can be activated with a simple touch of the wrist or elbow. Leave your hands free and keep your faucet sparkling clean. Change the way you control your kitchen with just a single touch.
The kitchen is the heart of your life at home – and let's face it, sometimes life gets messy. With GROHE's innovative EasyTouch faucets sticky fingers won't slow you down and cross-contamination is a thing of the past. Hidden GROHE technology lets you start and stop the flow of water with a single tap of your arm, wrist or the back of your hand, anywhere on the spout. No more greasy fingerprints or struggling to turn a lever with your elbow.
FOOTCONTROL
For kitchens where time is of the essence and convenience is a must, why not go hands-free?
GROHE's new FootControl faucets can be turned On and Off with a gentle tap of your foot on the base unit, leaving your hands free and your faucet spotless at all times. Three of our most popular faucets come with this innovative FootControl technology, or you can retro-fit the feature to any GROHE pull-out kitchen faucet. To say goodbye to germs, mess and hassle, simply tap your feet!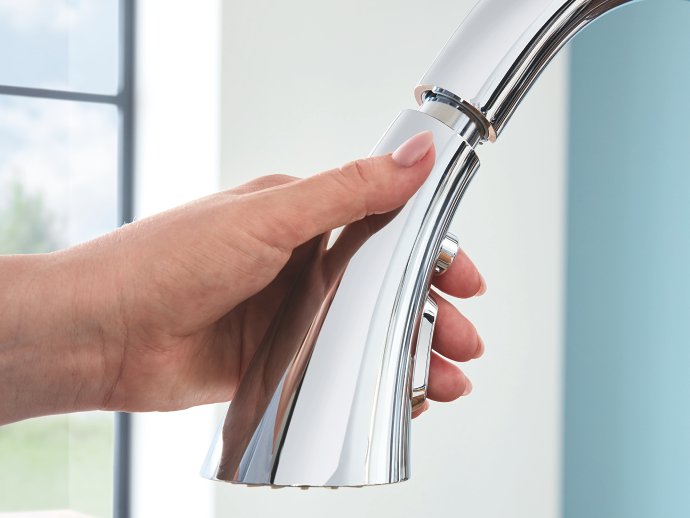 MAGNETIC DOCKING
Thanks to powerful integrated magnets the pull-out spray head retracts easily and smoothly to the perfect position every time after use.
TYPES OF SPOUTS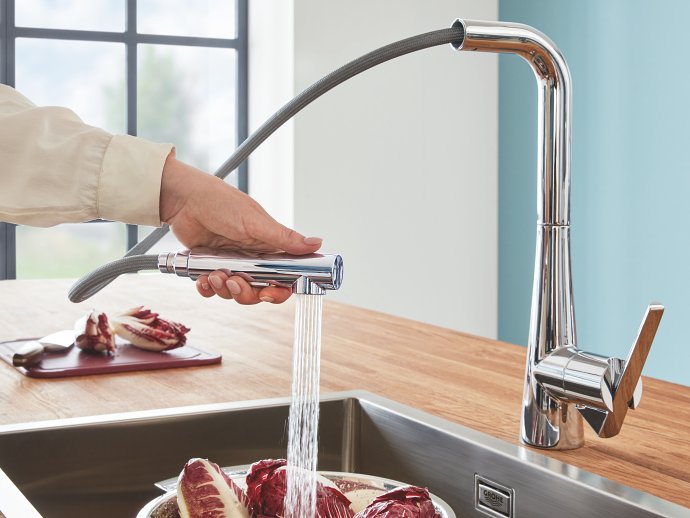 POWERFUL SPRAYS
Our range of spout options let you combine comfort and convenience with great design flexibility. Our spouts come in a variety of heights, from a compact low spout for small spaces to a high spout perfect for filling pots, as well as in a choice of U, C or L-shape to perfectly suit your style. Need even more flexibility? Our spouts that swivel or feature pull-down spray heads offer extra reach, power and performance for busy kitchens.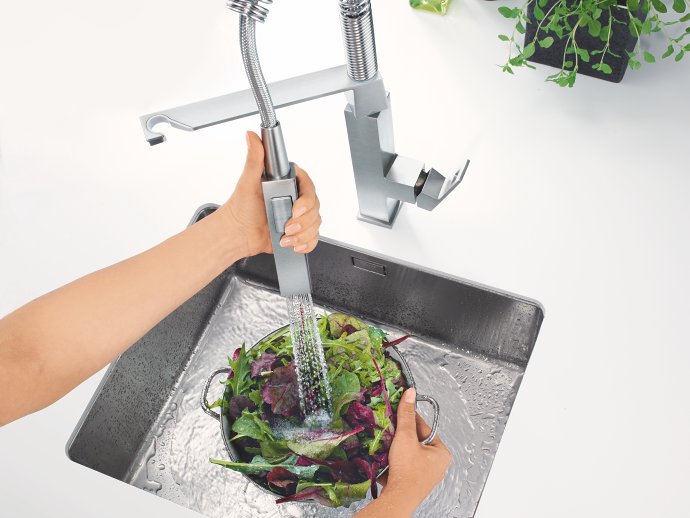 PROFESSIONAL SPRAY
Features a 360° spring arm and easy switching between the spray and mousseur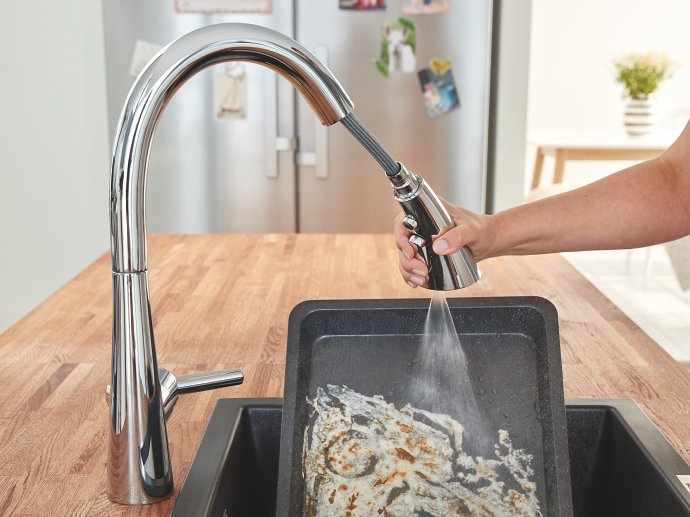 TRIPPLE SPRAY
Three different spray options - three times the flexibility. Tackle everything from kitchen prep to cleaning with ease and power, thanks to the useful, flexible Triple Spray function. The Laminar Spray is designed to be completely splash-free. The Shower Spray adds air for a strong spray ideal for washing fruit and veg. The innovative GROHE Blade Spray is a condensed jet, perfect for cutting through dirt and grime, but using up to 70% less water than the Laminar or Shower Spray. Switch between each spray with a button on the spray head - or use the clever Pause function to stop the water flow for a moment. Designed around the demands of busy kitchens, GROHE Triple Spray has every kitchen task covered.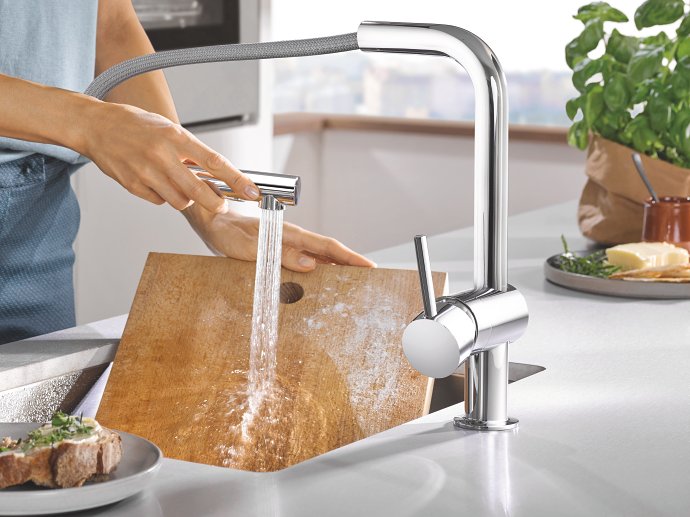 PULL-OUT DUAL SPRAY
Increases operating radius of the faucet and offers easy switching between mousseur and the spray.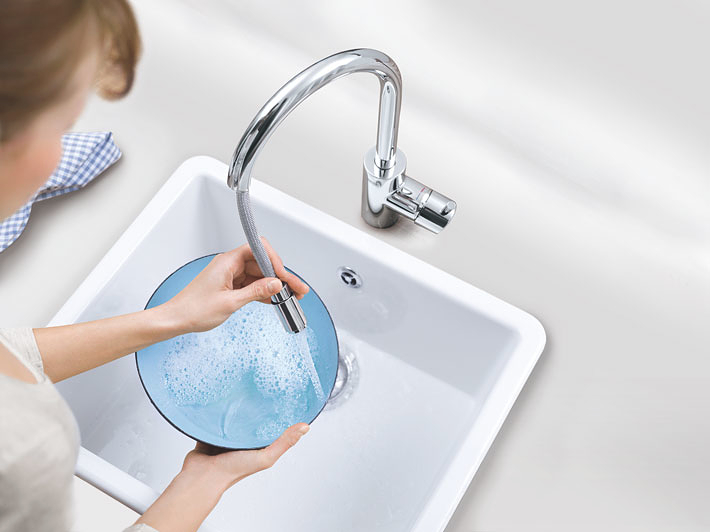 PULL-OUT MOUSSEUR
Increases the operating radius of your faucet
Finishes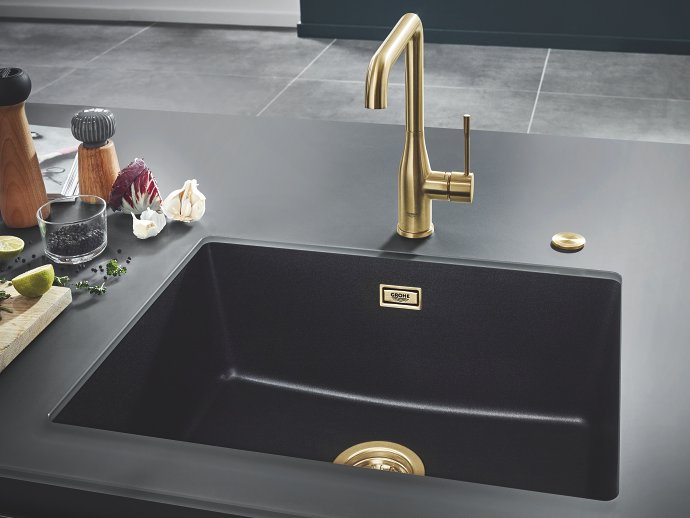 PVD COLORS
GROHE PVD
UNRIVALLED, HARD AND SCRATCH RESISTANT
OUR HIGH-END PVD TECHNOLOGY BRINGS OUR NEW COLORS TO LIFE
Especially in the world of kitchen solutions where surfaces ought to last for a long time, excellent, highly resistant finishes distinguish good products from great ones. GROHE's aspiration to always produce only the best, is the reason for a special technology that assures not simply most brilliant colors, but a durable coating of the highest quality offering consumers long-lasting water enjoyment. For our faucets this means PVD is 10 x more scratch resistant than chrome and has a 3x harder surface. When it comes to sinks, PVD is the final layer on the stainless steel core giving you maximum durability. Next to the resistance of the material, the finishes come with the brilliance they deserve ranging from dark Brushed Hard Graphite to bright Polished Cool Sunrise giving you full freedom of choice – the perfect characteristic for your kitchen.