Indulgence with a conscience – the water-efficient GROHE Euphoria 180 shower system
Let the GROHE Euphoria 180 shower system with bath thermostat take your shower experience to the next level – whether you like a refreshing morning shower or a more relaxing time to unwind at night. The system offers 3 different spray patterns for total indulgence: there's a gentle Rain Spray, the water-efficient SmartRain and a revitalising Massage Spray. The GROHE TurboStat technology guarantees a constant temperature throughout with no nasty fluctuations. The GROHE EcoJoy function limits water flow to an eco-friendly 9.5l/min without compromising performance. Family-friendly, it also features the GROHE SafeStop button which can limit the temperature to 38°C to prevent scalding. The dazzling GROHE Starlight stainless steel finish is a scratch-resistant surface that will stay sparkling for years to come.
consists of:
Horizontal swivable 450 mm shower arm
exposed thermostat with Aquadimmer function
allows change between:
head shower Euphoria Cosmopolitan(27 429 000)
chrome plated spray plate
spray pattern: Rain
with ball joint
angle of rotation ± 15°
bath spout
separate diverter for hand shower Euphoria 110 Massage (27 239 000)
adjustable in height with gliding element
shower hose Silverflex 1750 mm(28 388)
GROHE Water Saving 9.5 l/min flow limiter
GROHE TurboStat compact cartridge with wax thermoelement
GROHE DreamSpray perfect spray pattern
GROHE Long-Life finish
SpeedClean anti-lime system
Inner WaterGuide for a longer life
TwistStop (to prevent hose from twisting)
suitable for instantaneous heaters (min. 19 kW/h)
minimum flow rate 7 l/min.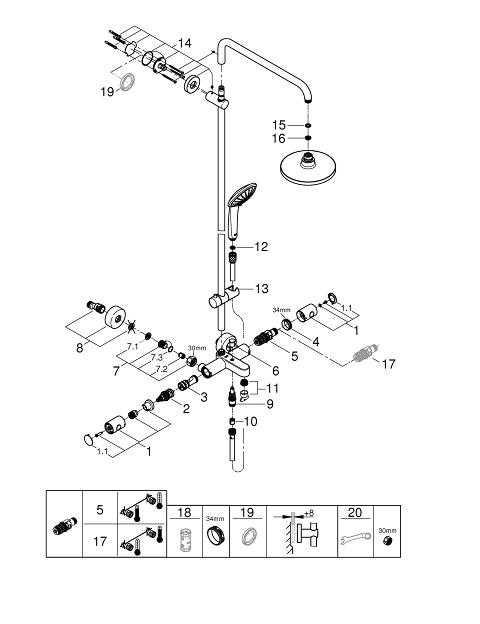 Pos.-nr.
Prod. description
Order-nr.
* Optional accessories

1

Costa metal handle 1/2"

47984000

1.1

Cap

6458500M

2

Aquadimmer

47364000

3

Water flow

47887000

4

Fitting ring

47743000

5

Thermostatic compact cartridge 1/2"

47439000

6

Diverter knob

65648000

7

Non-return valve

47189000

7.1

Dirt Strainer

0726400M

7.2

Non-return valve

08565000

7.3

O-ring ø17 x ø2

0305500M

8

S-union

12662000

9

Diverter

65655000

10

Non-return valve

08565000

11

Mousseur

13926000

12

Dirt strainer

0700200M

13

Sliding piece

12140000

14

Outlet shower holder

48279000

15

Fibre seal dia. 12x2 mm

0138900M

16

Dirt strainer

48007000

17

GROHE TurboStat cartridge 1/2"

47175000*

18

Socket spanner

19332000*

19

Compensation disc

27180000*

20

Special spanner

19377000*

21

Shower arm for shower systems

14047000*