GROHE Rainshower F-Series 10" shower system – extra flat design for perfect relaxation
Maximum showering satisfaction meets cool and contemporary design. It's time to indulge in the soothing soft spray of the square head shower or the invigorating focused spray of the sleek height-adjustable hand shower. That's the beauty of the GROHE Rainshower F-Series 10" shower system with an extra flat design. The GROHE DreamSpray technology ensures a balanced water flow from all nozzles, creating a uniquely pleasant sensation on your skin.The precise GROHE thermostat instantly delivers your desired water temperature and keeps it constant without fluctuations. Thanks to the GROHE CoolTouch technology the surface of your thermostat will never be too hot to touch. With their premium chrome finish and anti-lime nozzles, these sleek modern fittings are super easy to clean and will retain their glossy sheen for years to come. The integrated water-saving technology permits you to reduce your water consumption by up to 50% without compromising on comfort, so you can fully indulge in a relaxing shower.
consists of:
Horizontal swivable 450 mm shower arm
exposed thermostat with Aquadimmer function
allows change between:
head shower Rainshower F-Series 10" (27 271)
material: metal
with ball joint
rotation angle ± 20°
hand shower Sena 28 034 000
adjustable in height with gliding element (12 140 000)
GROHE TurboStat compact cartridge with wax thermoelement
GROHE SafeStop at 38°C
GROHE SafeStop Plus optional temperature limiter at 43°C included
metal shower hose 1750 mm (28 025)
GROHE CoolTouch
GROHE DreamSpray perfect spray pattern
GROHE Long-Life finish
Inner WaterGuide for a longer life
suitable for instantaneous heaters (min. 19 kW/h)
minimum flow rate 7 l/min.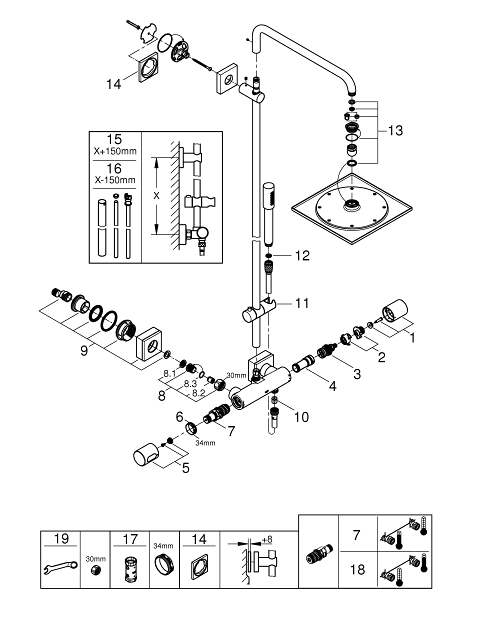 Pos.-nr.
Prod. description
Order-nr.
* Optional accessories

1

Aquadimmer handle

47804000

2

Temperature limiter

47723000

3

Aquadimmer

47364000

4

Water flow

47887000

5

Handle

47803000

6

Fitting ring

47743000

7

Thermostatic compact cartridge 1/2"

47439000

8

Non-return valve

47189000

8.1

Dirt Strainer

0726400M

8.2

Non-return valve

08565000

8.3

O-ring ø17 x ø2

0305500M

9

S-union

47824000

10

Non-return valve

08565000

11

Sliding piece

12140000

12

Dirt strainer

0700200M

13

Inlet valve assembly

45933000

14

Compensation disc

27617000*

15

Shower system pipe for retrofitting

48053000*

16

Shower system pipe for retrofitting

48054000*

17

Socket spanner

19332000*

18

GROHE TurboStat cartridge 1/2"

47175000*

19

Scale handle

47811000*

20

Special spanner

19377000*
Products and accessories for the installation